When I first started out on this project, I thought, "yeah, this won't take too long." I was a fool for two reasons. One: putting this together actually did take long, and I now have a greater respect for people that make iceberg videos because they do even more work. Two: as I said in the last part, it turned out that Tungerman revised the iceberg just days before I put out the first part. And so, we're here today to look at the entries that got added, because I would not have closure if I didn't do it.
You should also probably read the first and second parts, if you haven't already.
Layer 2 Alt
So, this layer's got some pretty good additions to it to look at in terms of higher profile stuff.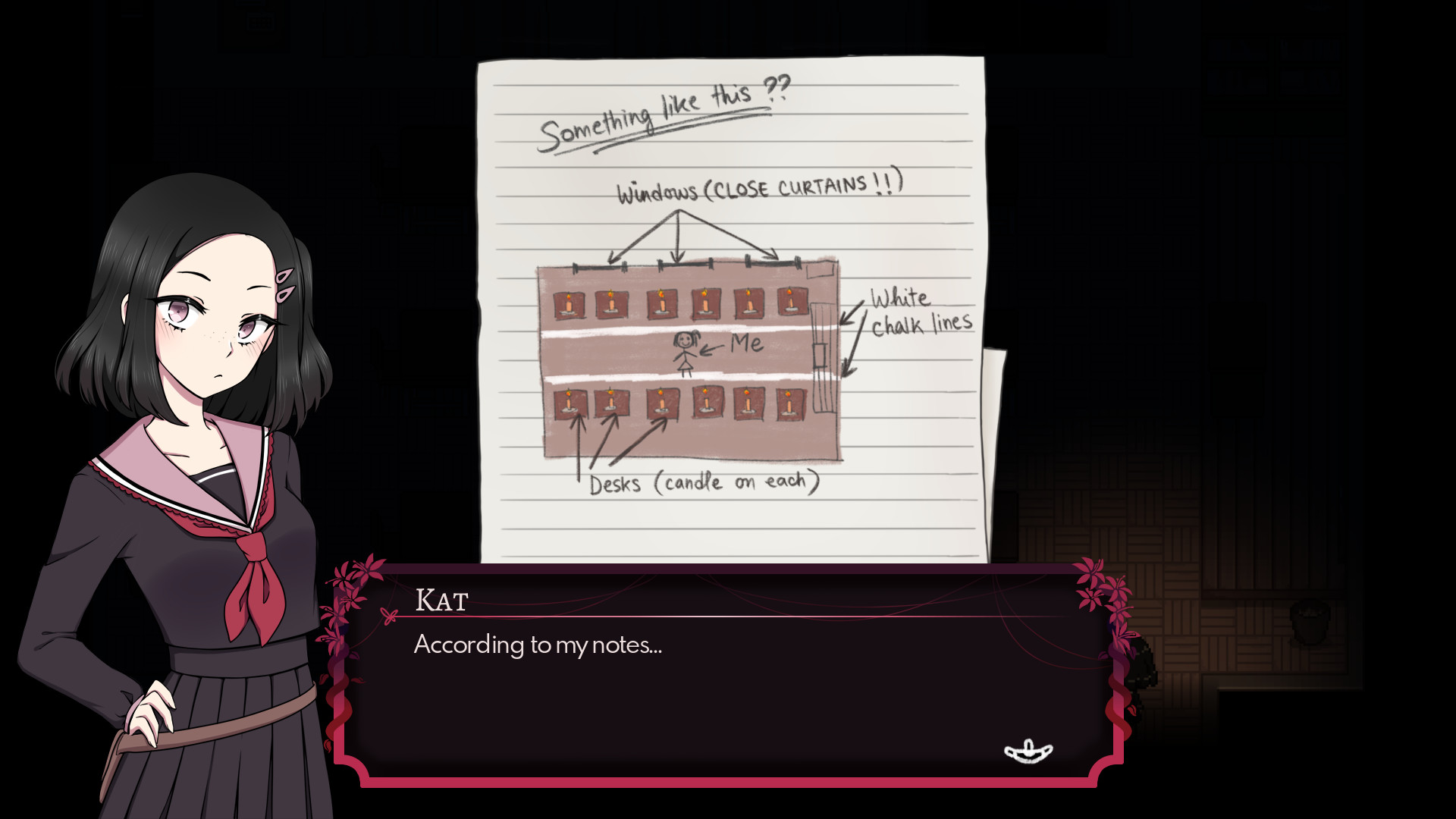 Project Kat is a newish RPG horror game made by leef6010. This game is actually meant to be a standalone prologue to Paper Lily, a larger game that's still in-development.
A bunch of girls try doing some occult stuff at their school, which you expect goes horribly. Controlling the loner protagonist Kat, you must find your way out of the situation while hopefully making some new friends. While a short game, it has multiple endings with a lot of them being non-canon "dead ends" that probably don't connect to Paper Lily. Gameplay-wise, there are multiple ways to solve some of the puzzles, which I think is a nice change of pace for this type of game.
Pocket Mirror, by AstralShift, is a 2016 RPG horror made by AstralShift. A young amnesiac girl wakes up in an unknown place, with only a pocket mirror to her name. On the quest to recover her memory, she runs into various strange girls that chase after her, as well as a completely normal Strange Boy that wants the protagonist's pocket mirror for unknown reasons.
The most acclaimed aspect of the game has to be the work put into the overall aesthetics. Like man, this is a really pretty game. It's also probably one of the few RPG Maker games that actually uses the "Play Movie" feature to show clips and does so to great effect. I distinctly remember that there was some drama with Pocket Mirror back in the day accusing the developers of stealing uncredited art assets, though that ended up getting cleared up
Since then, AstralShift has been working on a prequel, Little Goodie Two Shoes, which last showed off its latest build in an event back in November. I honestly can't tell if it's still in RPG Maker, but I can say that it's still very pretty.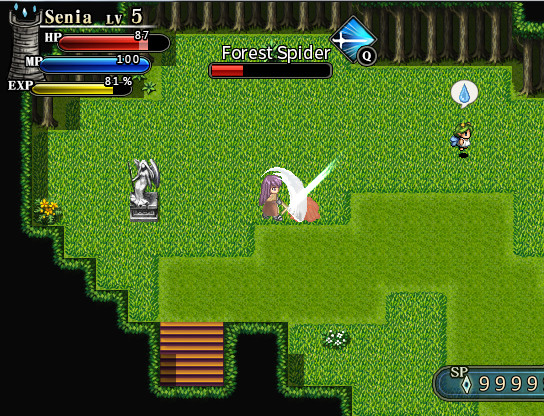 Eternal Senia was a 2015 game made by Sanctum Games. This one is an action RPG and is a freeware game that you can easily play on Steam.
The game was developed under the developer's belief that games shouldn't be overly complicated and difficult, resulting in a simple to play action RPG experience. Honestly, I appreciate that attitude in a gaming world of try-hards. Do not @ me about this, I will block you.
In 2018, Sanctum Games came out with a follow up, Eternal Senia: Hydrangea After The Rain, a mobile game that… sure is a mobile game-ass mobile game. Fighting has been further simplified into clicker gameplay, with additional party members automatically attacking to turn it into an idle game. There's some visual novel scenes to connect a story together, as well as… a gacha system. Cool, I guess.
And we end this layer off with Misao: Definitive Edition. Not to be confused with the RPGMaker.net awards thing, the Misaos, though given that the Misaos were named after a character from a series made by a pedophile, I'd rather prefer that the awards were named after this game instead.
Misao was a classic RPG horror by Miscreant's Room (led by – and perhaps only staffed by – sen) released in 2011 and translated by, you guessed it, vgperson. It was technically made in WOLF RPG Editor, but shush, whatever. As for Definitive Edition, it's the commercial version that came out on Steam with new graphics, extra scenes and an alternate male protagonist.
An ordinary high schooler named Misao suddenly disappears one day and is believed to be dead. Months later, her classmates are suddenly caught up in an earthquake at the school and, yeah, here we go baby, another haunted school. Playing as Aki, you must navigate the cursed school and maybe get to the bottom of what happened to Misao.
Besides Misao, Miscreant's Room is also responsible for another RPG horror game, Mad Father, which is implied to take place in the same universe as Misao. Mad Father would later get a commercial, improved Steam version alongside Misao in the mid-2010s.
Layers 3 and 4
Got some more variety on these layers. I actually have a few of these games sitting around on my Steam wishlist; maybe now I should actually check them out, now.
Rakuen is a 2017 adventure game developed by Laura Shigihara. A hospitalized boy is read a story called Rakuen by his mother, who reveals that the mythical world and the wish granting guardian in it is real. The boy can get a wish granted, but only if he completes certain tasks for the guardian.
In this adventure game, the boy makes friends with other patients in the hospital and helps them with their own issues. To help them out, he crosses over into Rakuen's storybook world that acts as an alternate to reality, where he interacts with the patients' fantasy alters. No combat, just the good vibes coming-of-age quest of a boy getting to know others in a character-rich story.
Outside of this game, Laura Shigihara is actually a really prolific composer. She was the lead composer for Plants vs Zombies, she did the ending theme for Deltarune Chapter 1, she worked on the official Chrono Trigger/Chrono Cross 20th anniversary album, etc. She also does Twitch streams where she shows off her compositions and does song covers. Overall, pretty cool person!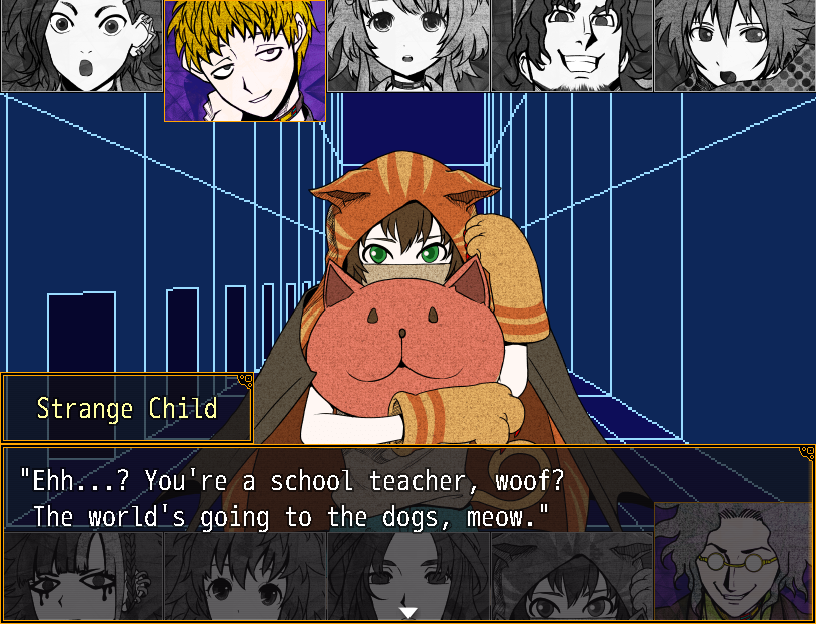 Your Turn to Die – Death By Majority – joins Angels of Death and Noel: The Mortal Fate as an episodic RPG Maker series on this layer. Started in 2017 by the mangaka Nankidai, Your Turn To Die is an RPG Maker MV game styled like a visual novel adventure where a bunch of characters have been dragged into a good ol' death game. The series started receiving the good vgperson treatment in 2019.
A notable aspect of this game is that since it's made in RPG Maker MV, you can actually go play it in the browser right now. Besides adventure game trappings, you also have to deal with minigames to make progress. Most notable of which is the Main Game, a Mafia-styled game which is the main death game that decides who lives or dies.
There is an official manga adaptation which, funnily enough, isn't made by the mangaka creator. A light novel was released in February that retold the events of the game through the perspective of Joe instead of main character Sara. There is also a side-game, Time to Shine: Island Existence, a management game that takes place after Chapter 2.
It is… also still an ongoing game! Your Turn to Die last updated in June with Chapter 3, Part 1 – B. Real Homestuck act structure hours.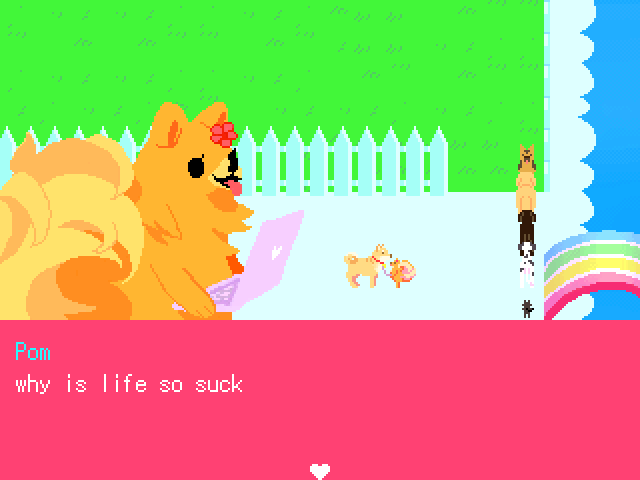 Pom Gets Wi-Fi is a game by Brianna-Lei/Me Patra, originally released in 2013. Pom Gets Wi-Fi is the cutesy adventure of a Pomeranian that was sent to dog heaven after dying in a fire while she was too busy being Online. Unfortunately, she can't seem to get an internet connection up there, so she sets out to look for a wi-fi connection in a normal adventure.
The cutesy adventure game actually holds the high honor of being the most downloaded thing on RPGMaker.net. A large contributing factor to this is that it was played by PewDiePie back in the era where really big streamers actually played small games like this. Though Pom Gets Wi-Fi was generally liked, it was somewhat divisive at its time due to being perceived as a "meme game" that got more attention than it deserved and…
And…
Oh my god.
This was the proto-Undertale.
…
Well, since then… Brianna Lei went on the create Butterfly Soup, a well acclaimed indie visual novel. In fact, she managed to get on the Forbes 30-Under-30 list in 2019 which… isn't actually a very prestigious thing for artists like her, according to her own experience, but still, a neat thing to mention.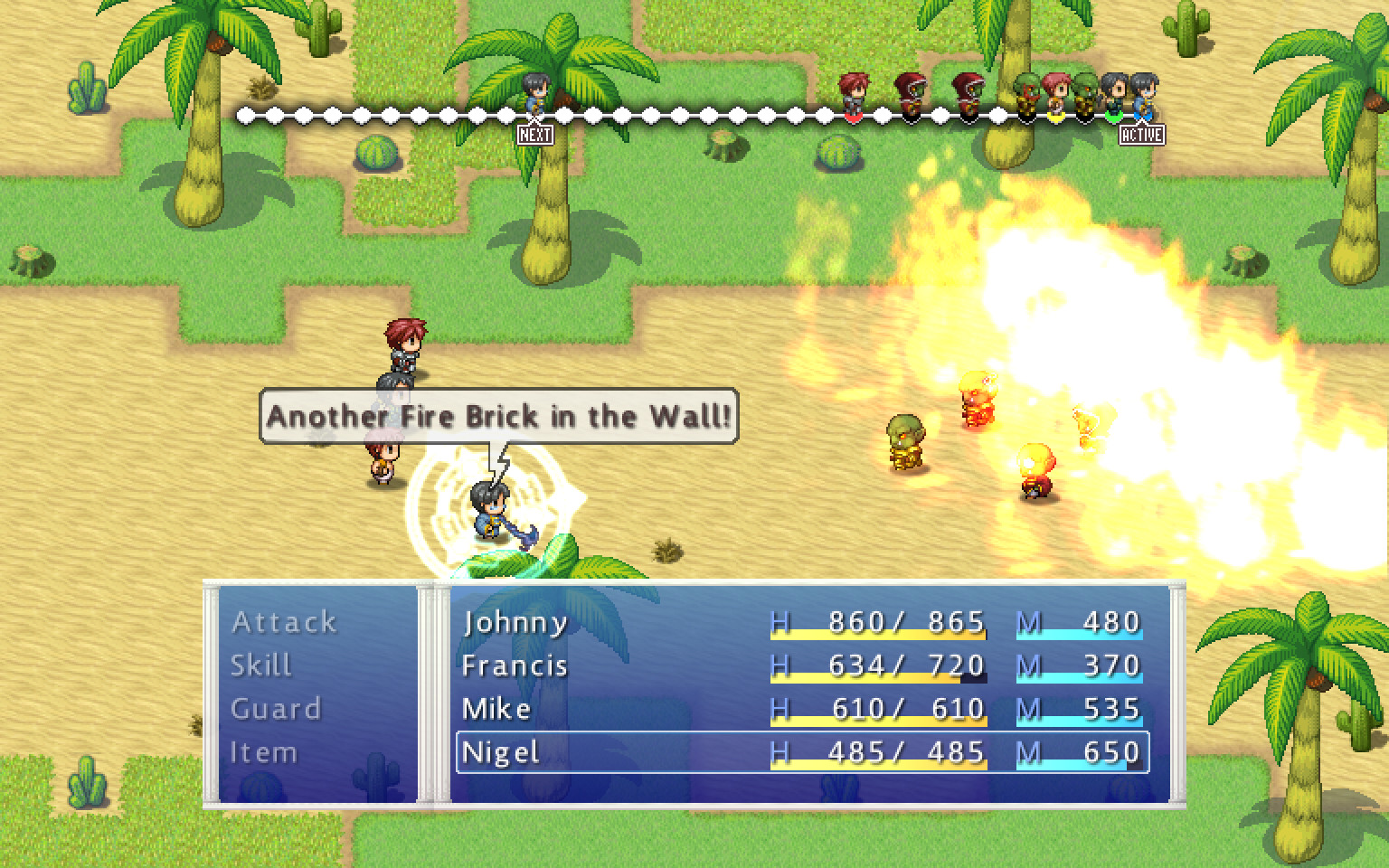 Doom & Destiny is an entirely commercial game by Heartbit Interactive. Lead developer Francesco Ficarelli was playing around in RPG Maker for fun and wanted his friends to check his project out, but they'd only play if he put them into the game. And so, Doom & Destiny became the adventure of four friends getting sucked into a fantasy world that's an amalgamation of everything they like, on an unlikely adventure.
If I had to make comparisons, I'd say that this game is kinda like Charles Barkley Shut Up and Jam Gaiden. It's a very jokey RPG that makes fun of a bunch of stuff, while also being a sincere, solid RPG that's apparently good to play. This is the best kind of parody game, to me. Well, I think the referential nature is kinda cringe but whatever.
The game later got a sequel in Doom & Destiny Advanced, which sounds like a remake but is actually a standalone game with whole new art and mechanics. It introduces a class system to switch around the characters, as well as an asynchronous multiplayer aspect? I'm not sure if this is RPG Maker MV or its own original engine, but seems like an ambitious step-up. Doom & Destiny Worlds takes a step further, combining turn-based combat with an overworld full of crafting and survival sim elements.
Layers 5 and 6
We return to these layers, where you'll only really know these games if you're into the RPGMaker.net culture. Or into vtubers.
Hell yeah, we finally got a Final Fantasy fangame on here. Whomst among us RPG Maker users haven't stepped into RPG Maker to create a fangame of an older RPG we liked? Well, many have tried, especially in the realm of Final Fantasy. Many have failed. But then there's Final Fantasy: Blackmoon Prophecy, a respected RPG Maker 2003 attempt by UPRC.
Blackmoon Prophecy is a fangame that's made in the vein of the first six Final Fantasy games, providing that familiar dungeon crawling experience with a plot that's an amalgamation of a bunch of older Final Fantasy stuff. Ever hear about problems with crystals? Hell yeah, we got crystal problems.
UPRC spent years working in RPG Maker. The first demo for Blackmoon Prophecy released in 2008, and the creator continued to grind from there. The complete version of Blackmoon Prophecy was posted in 2012, and it'd get a few further updates over the years. In fact, UPRC released a randomizer for this game back in July.
But one Final Fantasy fangame isn't enough. UPRC started working on Final Fantasy: Blackmoon Prophecy 2 in 2013 and eventually managed to finish it in 2017 – this game also got further updates. But why just be a fangame developer? Penumbra Crystallis is a still in-development game that diverged from an effort to make a Blackmoon Prophecy 3 in late 2020. It intends to be a commercial game and there's a demo out, and given UPRC's track record and persistence, I'm confident in believing that Penumbra Crystallis will be out one of these days.
Soma Spirits is a game that I know and played! Also, I apologize to this game and LISA: The Pointless for saying that fighting with only two party members is bad. I see firsthand that it rules, actually.
Anyway, Soma Spirits is a game by Torch60 where you play as a duo of guardian spirits that watch over Soma's World of Joy and World of Sorrow. With the balance between the worlds being threatened, the duo sets out on a quest full of moral decisions, classic RPG fights and moral questioning on careless optimism and realist cynicism. In my opinion, this is a pretty great game and y'all are sleeping on it more than Jimmy and the Pulsating Mass, to be honest.
Originally released as freeware in 2016, Soma Spirits would later get a commercial re-release as Soma Spirits: Rebalance. Torch60 also made Brave Hero Yuusha and earlier this year, he released Soma Union, a sequel taking place far in the future of Soma Spirits' best ending. His entire catalogue of games were also made free to play on Steam alongside Soma Union's free Steam release. He and SpecialAgentApe – the composer that's worked on his games – have also been slowly working on Epilogue Adventures, a game that looks like a sort of crossover game between all of Torch60's stuff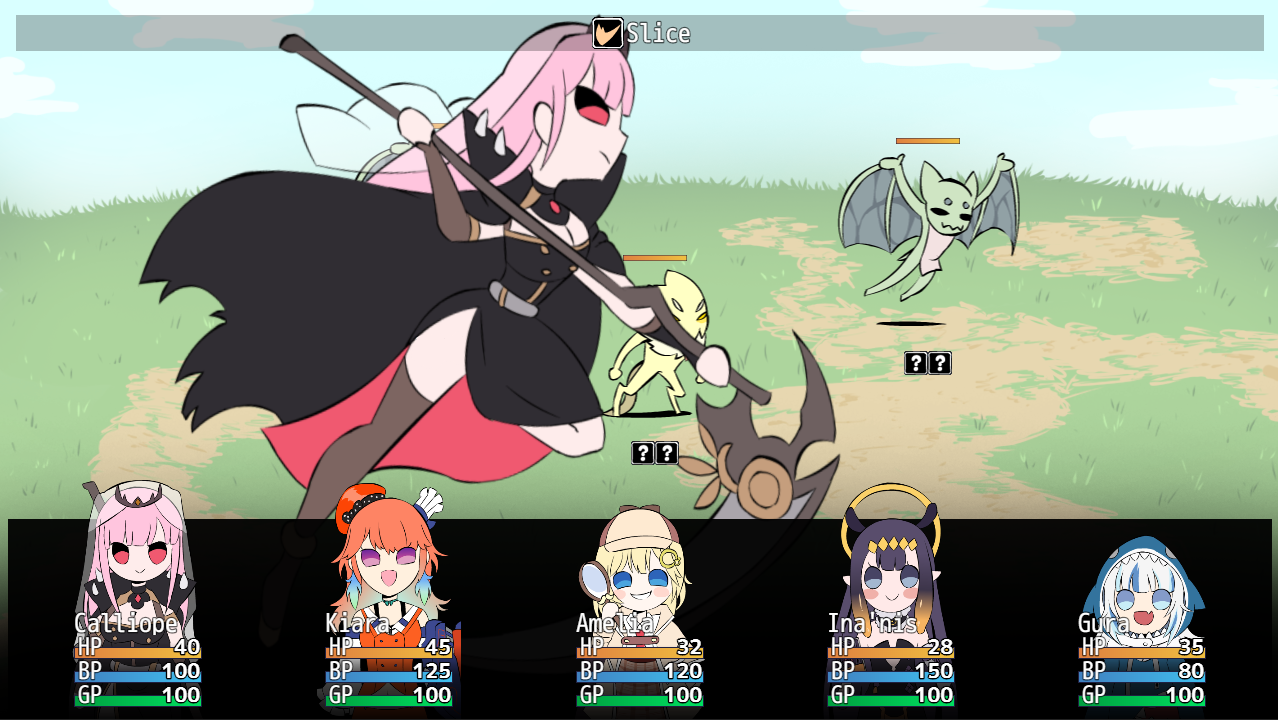 Hey, do you like Vtubers? Well, do I got a game for you. Holoquest is an RPG Maker MZ game developed by Avraxas that focused on the Hololive vtubers, who are arguably the most popular names in the vtubing game.
i'm here to research rpg maker games not vtubers but Mori Calliope is very pretty
The humble town of… Holotown is one day attacked by a mysterious dragon. Star vtubers Mori Calliope, Takanashi Kiara, Watson Amelia, Ninomae Ina'nis, and Gawr Gura are on the case to see what the deal is with all this.
By all accounts, it's a fairly well-made short comedy RPG! Though, you'll probably get way more mileage out of it if you actually do engage with Hololive stuff, even if knowledge isn't necessary to get through the game.
Layer 7
We're getting into the weeds here. You may notice that some stuff was removed from this iceberg. This is because the iceberg's creator wanted to highlight games that an English player could conceivably play, given that this is an iceberg aimed at English readers.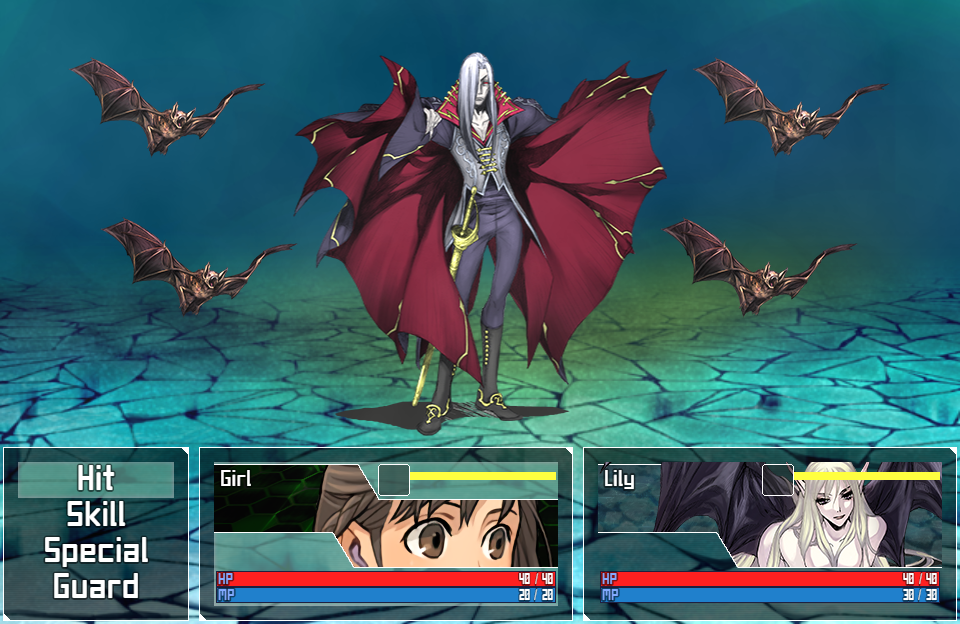 Now, YOMOTSU! That's actually a game I know! Back in 2017, I participated in that year's iteration of the Indie Game Making Contest with my friend, which we hardly got far in. I later checked out the top three entries from the competition for the blog, and YOMOTSU, by Akumu Games was the grand winner.
You find yourself on the Yomotsu, a train that straddles the afterlife, and you set off down the train in hopes of getting off. The game was a difficult RPG that had a surprising amount of customizability, at least within the constraints of the contest. While your character is flexible, they can also head into fights with a demon partner, of which there's a surprising variety. The structure was completely linear, presenting you with easy fights that recruited demons that alternated with hard boss fights that demanded the most of you. I remember really liking this game.
Upon seeing this game on the iceberg, I really wanted to see what became of it. Akumu Games wound up self-publishing YOMOTSU on Steam as it is which… hasn't seen a lot of success, even with its price. The developer actually recently put out an RPG Maker adventure game called Miraculo Island recently, so it's cool that they're sticking with it, I guess.
The Slime Bent On Revenge is unfortunately one of those lost games, and is currently only survived by a page on the RPG Maker Wiki. Originally released in 2003 by Ferny Productions, this was an RPG Maker 2000 game about, you know, a slime bent on revenge. After witnessing a hero slaughtering his family and believing himself to be too weak to fight on his own, he decides to create an evil empire.
I attempted to look into Ferny Productions. I found a link to a Geocities page that told me that Ferny Productions moved and I also immediately got pop-ups that led to me scanning my computer for viruses. I found the page of another really old but serviceable RPG Maker creator going by Blade Games who listed Ferny Productions as an affiliate aaaaaand it is a dead link. Well, I know nothing about this developer and nobody's stepped up with a download for The Slime Bent On Revenge, so that's effectively lost media.
For a game that isn't lost but requires going out of your way to access, we end with LiDiA, by Labo Game Studio. This is an RPG Maker MV game that went straight for a commercial release via DLSite and is unavailable anywhere else besides… well, you know.
Building off the idea that 95% of brain activity is done unconsciously, LiDiA is a story about someone delving into that part of the brain, represented as a literal sea of unconsciousness. Subtitling itself as an "Emotional Adventure Game," it's one that's absolutely flown under the radar, which isn't surprising given that it's only distributed in one place that most English players wouldn't know about.
Besides LiDiA, Labo Game Studio also made similar adventure games called Dormitory and Memento, which are also available only through DLSite. Though, unlike LiDiA, they currently do not have a translation.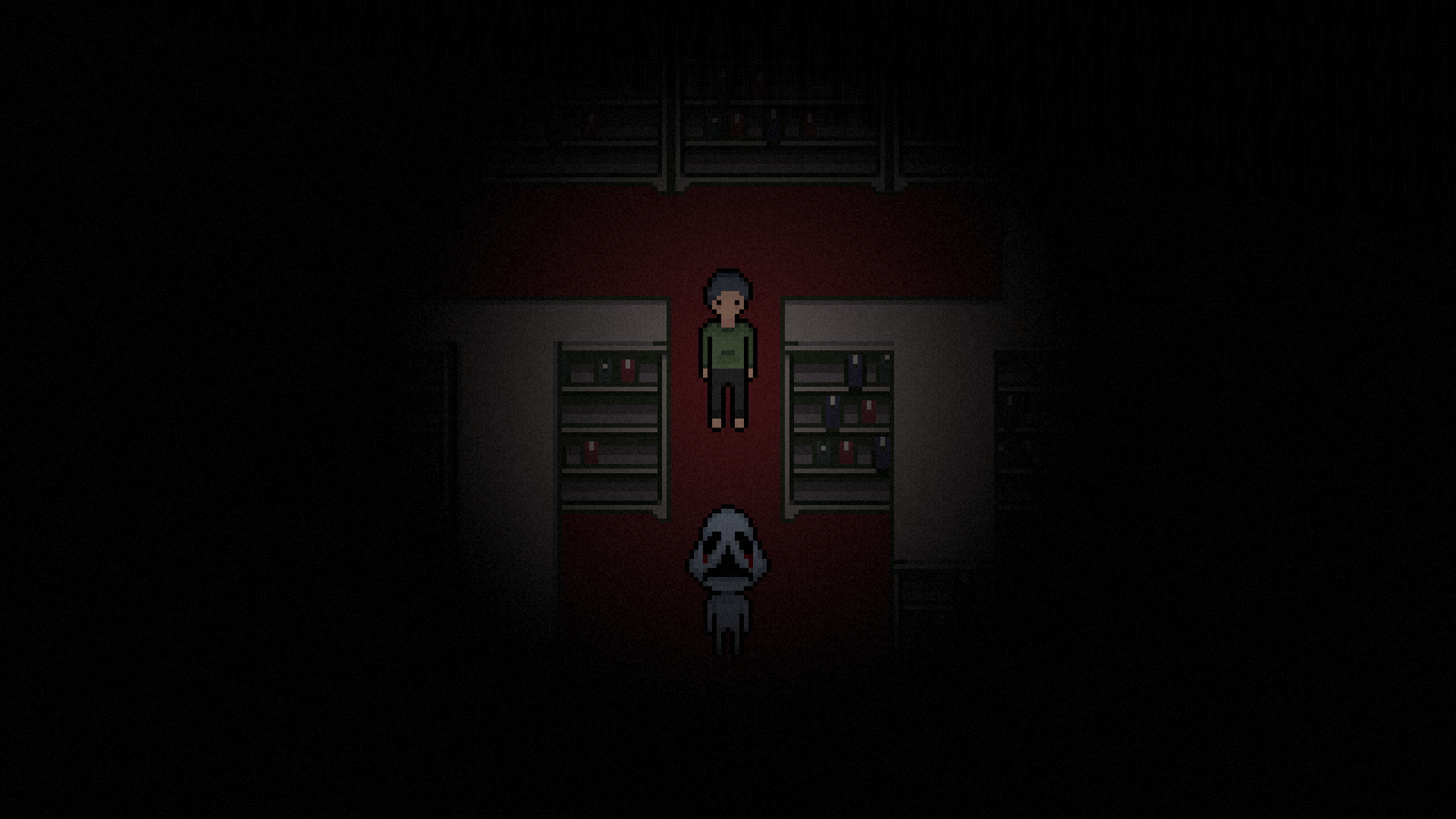 Closing this out, we go back to the RPG horror well with Dead Dreams, by Aizaz Marx. The game had a Kickstarter, though unlike the success stories of the higher tiers, it wound up failing. Regardless, the developer wound up powering through.
There was once a club of game developers that broke apart after one of them mysteriously died. However, they're one day called back together by V, who forces them to re-experience the past through… you know, the usual kind of stuff.
You can probably tell that I don't care about most of this genre very much by now.
It's kinda weird. I know that these RPG horror games stopped being viral, but this looks like something that'd get more steam. Maybe that one guy that made a video essay about the "death" of the genre should actually bother supporting the definitely still existing scene and play something like this. Anyway, Aiaz Marx has a whole bunch of other horror games, so if you like this game's vibes, check out their other works.
Layer 8
And now, for the grand finale, the layer that was completely re-made. To be honest, I liked looking for stuff on the old one. Yeah, it was harder, but looking for new mysterious things is exciting.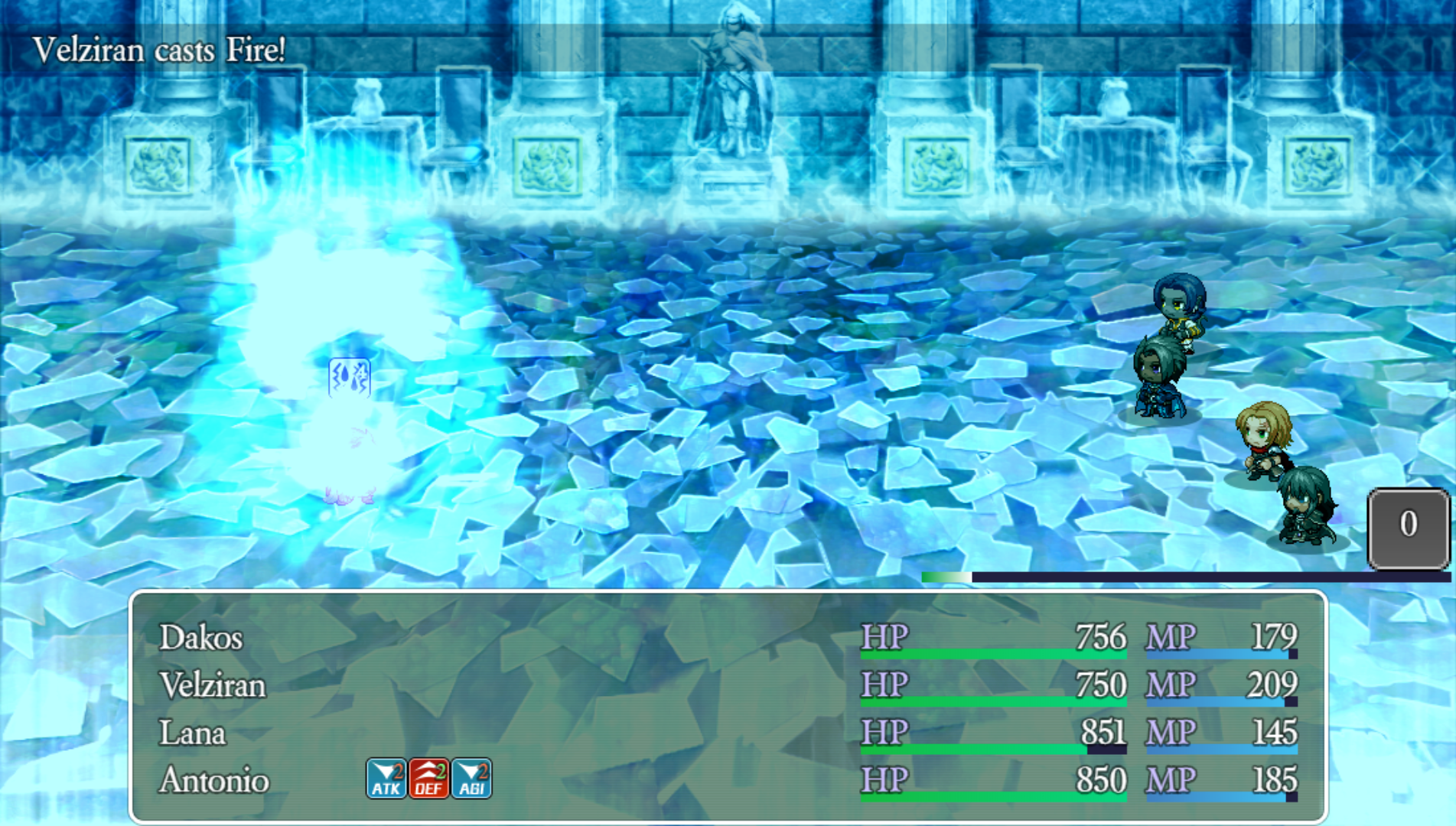 Storynth is a game by Julia Barker. A ragtag group of adventurers find themselves traveling through the titular Storynth, a massive ancient fortress in a standard adventure.
I… honestly don't have a lot to say about this game. It's a pretty straightforward RPG made in RPG Maker MV and besides its original soundtrack, it mainly uses the assets that the engine provides. Best of luck to you, Julia.
Next, we have 12 Minutes… huh? No, this actually has absolutely nothing to do with that 12 Minutes indie game that somehow has celebrity voice talent and incredibly bizarre and bad plot twists. Honestly, if Tungerman searched out for a game with the exact same title as a recent one to confuse people, he did good.
But no, 12 Minutes was a game posted to that same forum as Designer's Sin, though unlike Designer's Sin, the download link to this game is still active and it actually got mirrored to itch.io. This was made for a 48 hour game jam, apparently by Deanna Coulton & William McNeal through the account yuyu!, who I think was the original founder of the RMRK site.
The whole game lasts 12 minutes, at which point, everyone will die. Until that point, you're given free reign to do whatever you want. It's the game that asks the question, "what will you do with the last moments of your life?"
Besides apparently being the past owner of this site, yuyu! has a bunch of other games under their forum signature. God, remember forum signatures? Those were the days…
Now, Super BomberHabbit is more of a weird game. It's a game made by dwart in RPG Maker VX Ace and it's a sequel to, well, BomberHabbit. These games are Bomberman fangames and are the creator's attempts to recreate Bomberman mechanics within the confines of RPG Maker VX Ace.
It's very much in the vein of single player Bomberman stuff, with different room layouts to navigate and enemies to blow up. I refuse to explain how Bomberman works, just know that Super BomberHabbit attempts to mirror that experience.
As a developer on RPGMaker.net, dwart's interesting in that almost all of his stuff aren't RPGs – nor are they adventure/horror games. Instead, he uses the engine to create action-puzzle games, which is an interesting change of pace compared to the usual RPGs and horror games.
Going back to RPGs – albeit one with a more unconvention style – we have Misery Street by Aleksandar Duricic. In this game, we follow the adventures of someone named Emo, who's trying to look for the meaning of life at the end of the titular Misery Street. Alas, the world is rotten and it's an uphill journey full of weirdos and creeps.
The art of the game is super simple while the game as a whole boasts of having a lot of content. While it's had like, zero attention, it does have a demo out if you want to try and see if you can dig its vibes. For me, I played some of it and I'm kinda mixed because the writing doesn't feel like it has a solid direction, but maybe things will come together if I keep playing.
Next up is Umbriel Forest, by JPC, and it was effectively lost until someone discovered a download for it. Now, I couldn't really find information on this game outside of the download link, so I decided to step into the ring.
(This and the next game are derived from this forum thread and were played via the EasyRPG Player.)
The game was originally made for a mapping contest, whose goal was to make the best possible map. And it shows, because Umbriel Forest is less of a game and more of a visual showcase to walk around in. And honestly? It looks pretty nice! A lot of Yume Nikki fangames should be taking notes. But really, that's all there is to it.
And we end thing's off with Danny's First Adventure, a really, really, REALLY basic game made in RPG Maker 2000. I can't tell who made it, even when I cheated by looking at the ending through the game's project files.
You are Danny and I guess the plot is that he was isekai'd into a fantasy world along with his girlfriend, Jenny by some temporal villain. Or maybe they were sent into the past, can't tell. He finds that a nearby town is being hassled by terrorists and an almighty Terrorist Captain. As it happens, not only were the heroes brought into this world, but so has fucking… Osama bin Laden. It's incredible.
This is definitely the game of someone new to the engine just fucking around. The maps are designed like shit. It's incredibly unbalanced in your favor. The story is uninspired. But it also just has this stream of consciousness nonsense that makes it weirdly likable. It's like looking at something you made when you were really young. Yeah, it sucks, but also you can see the spark of joy and enthusiasm that you put in it.
This? This is the real RPG Maker experience, to me.
---
As we can see, there's a rich varied world to the realm of RPG Maker games. And remember, this is just the ones accessible to English speakers. There are probably way more Dark Necklofars out there on the Japanese side of things, and who knows about games made by people in other languages?
To close things off, I actually want to recommend two readings if you're interested in more RPG Maker Content(TM). Felipe Pepe wrote a lengthy Medium post on the history of RPG Maker and lists out a greater variety of games to look into, and lost media connoisseur RPG Maker Historia wrote about the specific trend of MOTHER fangames made in RPG Maker. And of course, check out the RPG Maker Cola podcast to hear ramblings from various developers in the scene, if you're into it.